I've Written A Children's Book, Now What? Tables at Book Events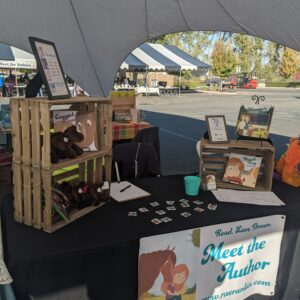 I wanted to share this information while it's fresh in my mind. I've now done a number of book events and yesterday while I was at the Great Valley Bookfest, I started really paying attention to the people walking through the aisle. Maybe it's the marketing geek in my blood. But I was noticing how people were shopping the aisles.
When I did my first show, I did a bunch of research on setting up craft booths, looking for ideas on how to set up my table. I ended up using wooden crates to make displays and to raise the books up off the table. What I've discovered in the past few shows I've done is that for some reason, people are afraid to pick up the books and look at them.
Yesterday as I watched people bypass my booth I started to think about what was drawing them in to the others around me. I did sell a fair number of books, and overall I felt like it was a good day but I thought I could have done somewhat better. What I did observe was authors on either side of me and across from me had the books displayed on stands simply set on the table, seemed to attract customers more than the ones with elaborate displays.
Another interesting observation I had was where I was in the event. There were two aisle with one aisle with tables face to face. The second row of tables was back to back with the center row. As people walked down the aisle with tables on either side, they tended to look at the outside aisle rather then the inside. They would exit the row without coming back and looking at the interior side. I hope to do the Great Valley Bookfest again and if so, I will definitely try for an outer table.
A lot of booths hosted giveaways, coloring pages, stickers, candy, pencils, and one had a fun spin game for the kids. All great ways to draw in the customers. I had stickers, which I ran out of, and coloring pages. I may change the coloring pages up a bit. I also think I will do something a little more active to get people to sign up for my newsletter next time as well.
Also as much as you are tempted to sit behind your table, if you can, stand up in front – greet people and interact with them.
I have another show coming up in November, and as much as I love my display, I'm going to put simplicity to the test. I will probably bring some holiday colors in but I'm ditching the crates. I will be sure to let you know how it goes.
What have you found that works for tables at events? Be sure to share, I'd love to find out what you've learned.