Cowgirl Christmas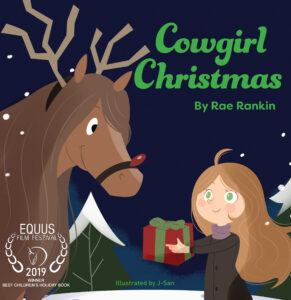 Cowgirl Christmas
By Rae Rankin
Illustrated by J-San
Named Best Children's Holiday Book – USA at the 2019 Equus Film Festival
Inspired by a real girl and her favorite horse.
Cowgirl Christmas continues the charming adventures of a girl and her favorite horse. Our favorite Cowgirl is back! This time our favorite Cowgirl and Duchess along with family and friends are spreading the joy and magic of Christmas. Come along as they play in the snow, decorate the barn, and bring joy to their community.
Purchase now online and at Independent bookstores near you!