New Children's Book Focuses on the Beauty of Plumas County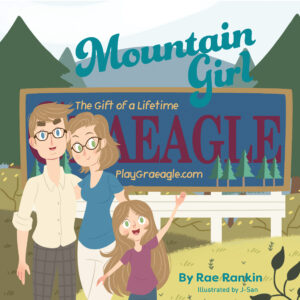 June 17, 2019
For Immediate Release
El Dorado Hills, CA
Just in time to celebrate summer, Rae Rankin released her fourth children's picture book, Mountain Girl, on June 1, 2019. Inspired by a girl, her family, and a quaint mountain town, Mountain Girl is a charming, easy to read rhyming story from the Northern California resident.
Join the family as they take a vacation to a spot they love to go. Come along as they hike waterfalls, catch crawdads, gaze at the stars and enjoy getting outdoors.
Having grown up in Mt. Shasta, Rankin said, "I have always loved small, mountain towns. My husband introduced me to Graeagle nearly 20 years ago." His family has vacationed in the area for over 40 years.
Signed copies of Mountain Girl are currently available at Feathers in Graeagle. It is also available online at major book retailers and Amazon.
Mountain Girl
Written by Rae Rankin
Illustrated by J-San
Age Range: 2-10
ISBN: 978-0999434000
Paperback: 40 pages
Publication Date: June 1, 2019
Published by: Rankin Publishing
About the Author
Rae Rankin is an independent marketing and graphic design consultant transplanted from sunny central California to the wilds of Utah. After two landlocked years (no the Great Salt Lake is not a substitute), her family was transferred to the Pacific Northwest. Four years later, life brought them full circle to back to El Dorado Hills. Her first book, Cowgirl Lessons, has been called a work of love and heart. Mountain Girl is her fourth book.
Learn more about Rae Rankin at www.raerankin.com.