Description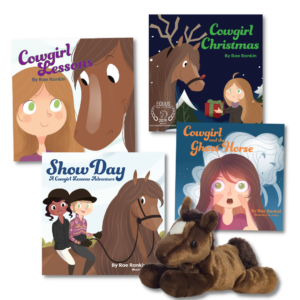 The perfect horse book gift pack for your horse-loving kids.
Contains all four horse books in the Cowgirl Lessons Adventure series and a stuffed horse!*
Cowgirl Lessons – For every kid who loves horses. Cowgirl Lessons is a charming story of a girl gathering her gear to head out to the farm and take her weekly riding lesson. From her exasperated mother digging her lost boot from her laundry mound to driving to the barn to see the horse she loves, this story paints the picture of one girl's devotion to horses. Cowgirl Lessons is inspired by a real girl, Duchess the horse, and all the little girls who took their first riding lessons on the sweetest horse ever.
Cowgirl Christmas – Named "Best Children's Holiday Book" at the 2019 Equus Film and Arts Festival, Cowgirl Christmas is a charming story celebrating the joy and magic of Christmas.
Snow is falling, the decorations are up, treats are prepared, gifts are wrapped, and there is fun to be had. But not before the chores get done! Our favorite Cowgirl and Duchess along with friends and family come together to bring cheer to their community.
Cowgirl and the Ghost Horse – Our favorite Cowgirl is back and this time she's on a quest to find the legendary ghost horse. It will take courage, bravery, and a little bit of luck. Come along and see if maybe, just maybe the legend is true. The award-winning author of Cowgirl Lessons and Cowgirl Christmas, Rae Rankin, is back with an all-new Cowgirl story. Told in the same charming, easy-to-read rhyme, Cowgirl and The Ghost Horse, is a fun, hair-raising story your kids will love!
Show Day – The girls from Stags Leap Farm are heading to their first horse show. When Dana's horse, Firefly, is injured, and won't be able to show, the girls come up with the perfect plan to save the day. Will Miss Valerie agree to their plan? Show Day explores the values of teamwork, good sportsmanship, friendship, and hard work. Told in easy-to-read rhyme, Show Day is the perfect book for all horse-loving kids.
Stuffed horse from Stuffed Safari.
*Horse designs may vary. While supplies last.