Book Review: Lizzie Flying Solo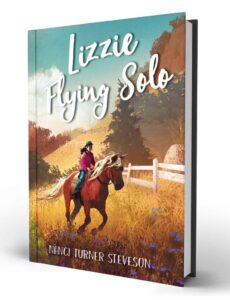 Lizzie Flying Solo
Nanci Turner Steveson
336 pages
Recommended reading grades 8-12
Lizzie St. Clair has had a really lovely life. She lives in her family home, has nice clothes, goes to a nice school, has friends. Until her dad goes to jail for embezzlement and her entire world implodes. Her mom tries to hold things together but soon they are forced to move away and into transitional housing after their own home is seized and bank accounts are frozen.
All this is overwhelming to Lizzie and she avoids interactions with others in the transitional housing and at her new school. Until she meets a new boy at school and down the path from the transitional home, she discovers a horse riding facility. She begins sneaking to the farm every chance she gets and when a new pony arrives who cannot be approached, Lizzie is determined to befriend this pony she names Fire. These relationships help Lizzie learn to trust again, and she finds solace in learning to ride horses and her goal is to save enough money to buy Fire.
This book was so much more than I expected. I shared Lizzie's heartache and triumphs and watched as she grew through the process. While this is a book about a young girl and a horse, it is a book about grief and loss, and growth and celebration. I highly recommend it, not just for middle school readers, but adults alike. We could all learn something from Lizzie.
I read this book on Amazon Kindle via Libby Library Book borrowing.