Book Review: The Forgotten Horse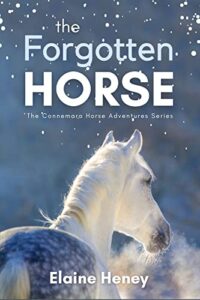 The Forgotten Horse
Elaine Heney
150 pages
Recommended reading age 9+ years
When 12-year-old, Clodagh discovers a disheveled gray pony in the paddock outside her bedroom window she wonders where he came from. The bed and breakfast her parents run is on the manor property where her dad also cares for the land. He believes the pony's name is Ozzie but other than that, he knows nothing about him.
Clodagh begins by just changing his water and trying to befriend him. Later Mrs. Fitzgerald, who owns the property, gives Clodagh more insight into the pony and asks her to care for him until his owner comes to get him. Clodagh agrees happily. She brushes him until he shines, makes sure he has plenty of water, and slowly begins to ride him in the paddock.
But then the unthinkable happens. The Ozzie's owner arrives and drags him away from Clodagh and sells him to the local riding school. Clodagh vows to somehow get Ozzie back. Will she succeed?
Forgotten Horse is emotional and promotes friendship, hard work, and determination.
This is the start of a great series – and one I would recommend for horse-crazy kids!
I read this book via Amazon Kindle Unlimited.