Book Review: The Rose Legacy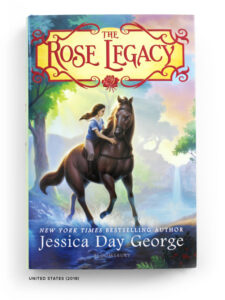 The Rose Legacy (Book 1 of 3)
Jessica Day George
267 pages
Recommended reading age 8-12
Orphaned Anthea Cross-Thornley has been shuttled between relatives for nearly 13 years when she is uprooted again and sent to the one place she does not want to be. Outside the walls of Coronam where the outcasts are sent. She is sent to the farm of her Uncle, The Last Farm as it is called where her eyes are opened to the one thing she and the entire country has thought was long gone, killed by a plague that spread to the people of the land. Horses.
At first, Anthea is mortified. She is scared she will be sickened from the horses and this will ruin her chances of ever becoming a Rose Maiden, a servant to the Queen of Coronam. What she finds out is she has "The Way", an ability to talk to horses that few people have. She learns to ride, work with horses, and starts to explore "The Way."
And then she learns two terrifying things. One the King has learned about the horses from a letter by Anthea's own hand. And second, her Mother is alive and is a spy for the King.
Anthea and her friends make a bold move to save the horses. But you will have to read the book to find out what happens!
I don't typically read books that fall in the fantasy category, but I loved George's book Tuesdays at the Castle.  When I was searching for more middle-grade horse books to read I stumbled across this series. I could not put it down! I have the other two books in the series on my TBR list.
Five stars! Horse-loving kids will love this book, especially since the characters can talk to horses with their minds!
I read this book via Libby on my Kindle.