Book Review: Liberty Biscuit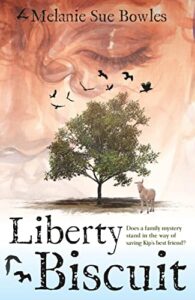 Liberty Biscuit
Melanie Sue Bowles
224 Pages
Recommended Reading Age 9 to 12
"Give horses a reason to be curious about you, Kip. So they want to be with you." – Grandpa Joe
Thirteen-year-old Kip lives on her family peach farm in Georgia with her parents and her grandfather. The farm used to have horses but at some point, the horses were gone. Kip loves horses and dreams of having one of her own, but her father won't let her have one, or any pet for that matter.
One day, while in the wood on the farm, Kip discovers a one-eyed abused donkey. She feeds it a peach biscuit and brings it home. Reluctantly her dad agrees the donkey can stay while he checks with the local sheriff about who may have lost it. Turns out, the donkey and two horses were confiscated in an abuse case. With much pleading Kip and her grandfather, Kip's father relents and they bring the horses to the property. Kip and her grandfather name the donkey Liberty Biscuit.
During all this, Kip learns her family has secrets and is determined to solve them.
I loved Liberty Biscuit and I highly recommend it. I was cheering for Kip and Liberty Biscuit the entire story. Melanie Sue Bowles weaves a fantastic story that draws the reader in. I loved Kip, she was a fierce, strong, and unapologetically honest character. We should have more characters like her in the literary world.