Book Review: Swing Sideways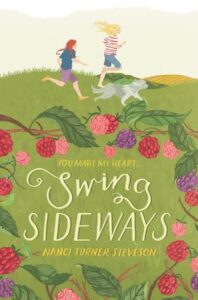 Swing Sideways
Nanci Turner Steveson
304 Pages
Recommended Reading Age 10-12
"When you go back to see her, be courageous."
Annabel is ready to start her summer free of being overscheduled by her mother, free to run free in the countryside around her parent's summer home. On their drive in from the city, Annabel notices a girl by the nearby farm waving to her. Curious she heads over to the farm the next morning and meets California who is living at her grandfather's farm for the summer.
The two girls quickly bond over a search for the ponies California's mother once rode. California believes if she can find them, her mother will return to the farm. Annie flourishes in the sun and slowly begins to find her way back to herself. But there is something else going on, as Annie flourishes, California grows thinner.
I admit to not reading the full description on Amazon when I downloaded this book. I had previously read Steveson's book Lizzie Flying Solo. Another book I really enjoyed. But once I started this book, I could not put it down. The characters are well-written, and although there are hints throughout that should prepare you for the ending, Steveson weaves a beautiful, heart-wrenching story. Prepare to feel all the emotions when you read this book.
This is my best read for January 2023.
I purchased this book and read it on my Kindle.