Summer Reading Book Review: Reins of Love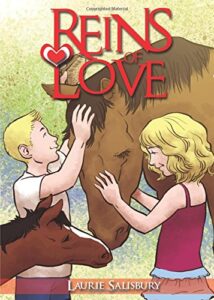 Reins of Love
Laurie Salisbury
https://lauriezkidz.wixsite.com/mysite
131 Pages
Nine-year-old twins Beth and Ben and their parents are moving from an apartment in the city to a home in the country. Beth wants a horse and the biggest room, which her parents have said she will get. Ben on the other hand feels like his sister is getting everything and he is getting the short end of the stick.
Not long after they arrive they are blessed with not one but two horses, a mare and a foal! The mare's name is Serenity and the foal Ben names Tawny.
The twins learn lessons of kindness, patience, and love by putting their faith in God.
This is a lovely book with a heartfelt message. For families of faith, I do recommend this story. Each chapter begins with a bible verse that relates to what happens in the chapter.
Amazon: https://www.amazon.com/Reins-Love-Laurie-Salisbury/dp/1628541288
The books I review are purchased by myself or downloaded via Kindle Unlimited. This review refers to the eBook version.