Summer Reading Book Review: Sofia's Surprise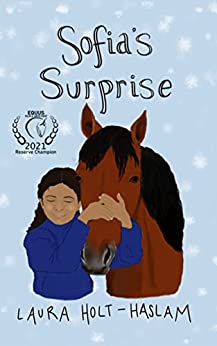 Sofia's Surprise (Book 1 of 3)
Laura Holt Haslam
192 pages
Recommended reading age 8 to 12
Sofia Ruiz has one giant wish. A wish that is bigger than any wish she has ever had. She wishes to own her own horse, a Palamino mare to be exact. But living in a trailer park makes Sofia's wish completely out of the question, especially with winter coming and her mom can't afford fuel for heat.
Sofia's mom arranges for her to spend the holidays with her grandmother, who is all but a stranger to Sofia. Sofia's mom and grandmother have been estranged for years, so long that Sofia barely knows her.
Reluctantly, Sofia goes to her grandmother's house and quickly learns she owns a Morgan horse named Delilah. Sofia learns to care for Delilah in hopes to learn to ride. Her grandmother gives her an early Christmas present a gift certificate with four riding lessons at the local riding school where she meets a beautiful Palamino gelding named Sundance.
But will the strained relationship between her mother and grandmother force Sofia to choose between staying with her grandmother and continuing to ride or going with her mom and possibly never riding or seeing Sundance again.
I really loved this book. I was concerned for Sofia and her life in the trailer park. That part really hit me hard and I didn't want to keep reading. But I did and I can't wait to read book 2! And if you didn't see it on the cover, Sofia's Surprise was a Reserve Champion at the 2021 Equus Film and Arts Fest!
Five out of five horseshoes for this one!
The books I review are purchased by myself or downloaded via Kindle Unlimited. This review refers to the eBook version.