Summer Reading Book Review: A Barrel Racer's Dream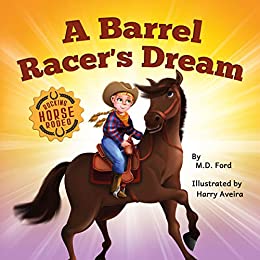 A Barrel Racer's Dream
M.D. Ford
Recommended reading age 4-8
The first book in the Rocking Horse Rodeo Series, A Barrel Racer's Dream is the story of Dee and Hank and their very first barrel race. Dee has been dreaming of this moment for a long time and she is ready for it. They have practiced hard and Dee hopes this will be her very first blue ribbon.
There is a lot to like about this book. First, it's illustrated and I LOVE illustrated horse books (ok maybe I'm a little partial). Second, M.D. has really showcased all the ins and outs of barrel racing for kids including information about gear, the pattern, and more. Third, Dee is such a good sport. I love that although she wants to win that blue ribbon with Hank, she also realizes that it's the hard work that's important.
Five out of five horseshoes from this horse book lover.
Check out the other books in the series, A Day at the Pee Wee Rodeo and A Gymkhana With Dee and Friends. I have read both and I highly recommend them for kids interested in rodeo and gymkhana! I learned a lot about both in these books that I wasn't familiar with.
The books I review are purchased by myself or downloaded via Kindle Unlimited. This review refers to the eBook version.