Summer Reading Book Review: Appaloosa Summer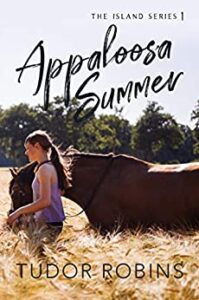 Appaloosa Summer
The Island Series, Book 1 of 6
Tudor Robins
226 pages
Recommended Reading Age YA/Teen
"Is there anything worse than a pinto?"
"Oh yeah. An Appaloosa. Kiss of death."
Meg Traherne is an accomplished rider, well versed in everything in the jumping world. But when her life comes crashing down as her heart horse dies mid-jump during a show, Meg is faced with a loss (not to mind a concussion) greater than she has ever dealt with before. Her trainer tries to get her back in the ring, even so much as allowing her to do groundwork on his high-priced show horse. But that is not what Meg wants. She wants Major back. Another curve ball is tossed her way when her best friend and riding teammate Slate decides it's time to hang up riding as she's preparing to leave for college after the summer is over.
Unsure of where her life is going to take her, Meg jumps at the offer of a job by her parent's friends, Betsy and Carl at their B&B on an island where her family has a cottage. After going the rounds with her tough, career-driven mom and her real estate agent dad, Meg takes the job hoping that it will help her figure out what she really wants and if her heart will ever be whole again.
On the island, she meets Jared Strickland, a handsome young man who has also been facing the loss of his father a year ago. He has thrown himself into keeping the family farm going and helping on the island wherever help is needed. Jared and Meg's relationship grows after they help with some cow work. In exchange for their hard work, she is given a horse. An Appaloosa of all things!
I can't say anymore because I don't want to give the story away. Let's just say my romantic heart LOVED IT. It's a sweet, innocent type of romance with just enough horse thrown in. I rate this one a 6 out of 5 Horseshoes! Why because I made up the rating schedule and this book deserves it.
And although we run the Arabian circuit, we spent three years at Deerfield Farm in Issaquah, WA with some lovely Appaloosa horses. Those horses, the trainers, and the students at Deerfield, saved my daughter's love of riding after one trainer nearly ruined it for her.
The books I review are purchased by myself or downloaded via Kindle Unlimited. This review refers to the eBook version.