We Are Celebrating National Beach Day!
If you have been following me for a while, you know one of my favorite places is the beach. And to me, the beach means the Oregon Coast. Lovely sandy beaches, fog, tidal pools, and depending on where you are the occasional beautiful 70-degree day. I am perfectly content with those cool foggy days, though where I can walk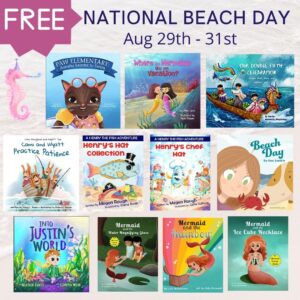 the beach right at the edge of the tide.
In 2018, I released my book Beach Day to celebrate everything I love about playing at the beach – sand castle building, kite flying, hunting for sea shells, and more.
Over the next three days, I'm celebrating everything I love about the beach with a talented group of authors and 12 free eBooks about the beach, ocean, and water. Your kids will love these books celebrating beach adventures, mermaids, fishing, and more!
Be sure to take some time to leave reviews after you have read the books on Amazon or GoodReads. We authors love to hear from our readers.