Upcoming Event: Sierra Arts and Ag Trail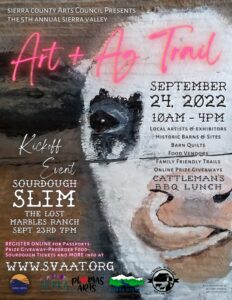 I am so excited to be part of the 5th Annual Sierra Arts and Ag Trail on September 24, celebrating the art and agriculture of the Sierra Valley that crosses through both Plumas and Sierra County. This fun all-day event visits farms, museums, nature preserves, and several other points of interest in the area. For complete information on the event, visit https://sierravalleyartagtrail.org/.
I will be at Lil' Meg's Pumpkin Patch at Whittemore Farms in Beckwourth from 10 am to 4 pm.
There are four trailheads set up to start the tour opening at 9 am on September 24. Each trailhead will host artists and provide opportunities to pick up or purchase passports, SVAAT merchandise, maps, and plan your day with a volunteer. SVAAT encourages participants to reserve passports online. Passports are a fun activity and entry into their prize drawing! The cost of tickets and passports goes toward renting port-a-potties at event locations and other related event expenses.
Sierra Valley Grange Hall –

92202 Highway 70, Vinton, CA

Sierra Valley Farms  –

1329 County Road A-23, Beckwourth, CA

Sierraville School  –

305 Lincoln Street, Sierraville, CA 

Milton Gottardi Museum –

501 School St, Loyalton, CA