Summer Book Review: First Term at Ravensbay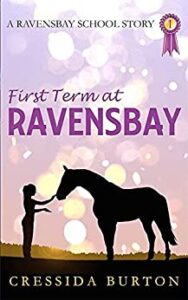 First Term at Ravensbay (Book 1 of 4)
Cressida Burton
212 pages
Recommended reading grades 8-18
Paige Buchanan has won the best competition of her life (so far). She won first prize from Ponies! Ponies! Ponies! magazine – full fees at the Ravensbay Boarding and Equestrian School. Leaving her mom and Edinburgh was hard, but entering the privileged world of Ravensbay was a whole new world.
Paige struggles to make friends with her dorm mates, Taryn who lives in the shadow of her famous showjumping sister, Anna who isn't even a horse girl, and Savannah, the spoiled girl who has everything – the fancy pony, perfectly matched tack, and is the girl determined to get Paige kicked out after discovering she is the "competition girl".
Paige decides she is done and wants to go home – and then she sees a beautiful blue roan in the fields of Ravensbay and suddenly she has another reason to stay.
First Term at Ravensbay (as well as the rest of the series) is truly a "can't put it down" series and perfect for your middle grade, high school horse-loving kids. I absolutely loved all of them and I can't wait to read what happens to Paige and the girls next! I read all four PLUS Cressida Burton's new book, The Starlight Pony, in one long weekend.
The books I review are purchased by myself or downloaded via Kindle Unlimited. This review refers to the eBook version.