Summer Book Review: Little Pearl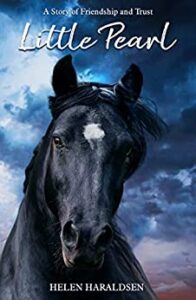 Little Pearl (book 1 of 5)
Helen Haraldsen
136 pages
Recommended reading grades 8-12
Amber Anderson loves ponies! She especially loves the Fell Pony, Pearl, she has been riding at the local equestrian school. When her parents make her dreams come true by buying her Pearl, she can believe her luck!
Until she starts at the local Pony Club and discovers Pearl is nowhere near the other kids' show jumping ponies. Not even close. Amber begins to wish she had listened instead of insisting that Pearl was the right pony for her. Feeling left behind, Amber wonders if she made a huge mistake until she rediscovers why she fell in love with Pearl in the first place.
A big thumbs up from this horse book reader! Helen's books (I'm nearly finished with the series) beginning with Little Pearl are fantastic and they suck you in. I find myself rooting for Amber and the Fell Ponies in every book! Can't wait to find out what happens next for Amber and her friends.
The books I review are purchased by myself or downloaded via Kindle Unlimited. This review refers to the eBook version.