Book Review: Silent Harmony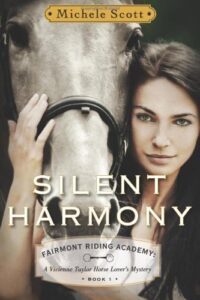 Silent Harmony
Michele Scott
Book 1 of 3 – Fairmont Riding Academy
238 Pages
Recommended Reading Age 12 – 18
"Scientists say that the memory of a horse rivals that of an elephant, which according to the experts is pretty remarkable."
Vivienne Taylor is an expert rider. At 17, she dreams of being the youngest Olympian Equestrian medalist. Plus she has something special, she can communicate with horses in her mind.  Vivienne has been accepted into the prestigious Fairmont Academy in California to further her riding career. When she arrives she is faced with the typical mean girl group who are jealous of her talent. When she is paired with a new horse Harmony, she finds she can't make the mental connection to Harmony and learns about Harmony's previous owner's tragic death.
Vivienne breaks through to Harmony and finds out her owner was murdered and now she is in the crossfire. Will she be safe? Who can she trust?
This was a really good horse book read. I enjoyed the concept of Vivienne and her mental connection to horses. Michele has given us a unique story that sucks you in. I have the other two books in this series on my TBR list.
I read this book on my Kindle via Kindle Unlimited.