Book Review: Buckaroo Beau Lives on A Ranch
Buckaroo Beau Lives on a Ranch
Kacy Burke
24 pages
Recommended Reading Age: 0-4
Book 1 of 2
Buckaroo Beau is an adorable story about a young cowboy living on a ranch and what he does every day. From sun up to sundown, Buckaroo Beau and his parents take care of the ranch.
It's a perfect bedtime story for all your tiny humans who dream of riding the range.
The art by Mel Schroeder is also adorable and provides the perfect images set against Kacy's story.
Vera Vaquera Gets a New Horse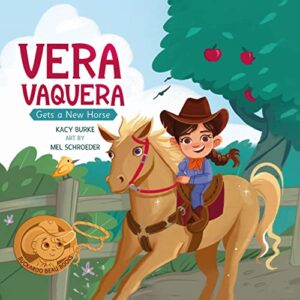 Kacy Burke
24 pages
Recommended reading Age; 0-4
Book 2 of 2
Vera Vaquera is looking for a new horse after her pony has come up lame. Her mom tries to help but most of them don't seem to be the right fit. Dad's options aren't much better either. Vera decides just what she needs and sure enough, she finds just the right new horse!
Another great book for your tiny humans who love horses!
I purchased ebook versions of these books for my Kindle.