Summer Reading All-Around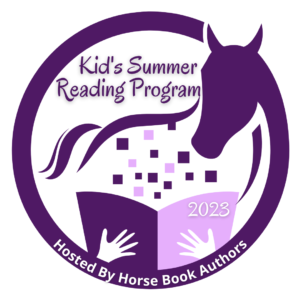 I am so happy to announce we are kicking off the 2nd Annual Horse Book Summer Reading Program hosted by horse book authors. This year's theme is Summer Reading All-Around.
This free summer reading program is hosted by over twenty international horse book authors representing the United States, the United Kingdom, Canada, Australia, and New Zealand. Summer reading is an important bridge between school years! Over the summer months, kids can lose valuable skills and knowledge. Studies show participating in a summer reading program increases reading skills, motivation, confidence, and enjoyment.
Kids of all ages are encouraged to participate. Participating authors have books in many different equestrian disciplines and range from picture books, middle-grade, and young adult. There are even non-fiction and art books.
How the Program Works
We try to make it as easy as possible to participate. Download a free reading log on our website or get one for a participating author. Register your participation on our website. Complete reading activities and mark them on your log.
The reading log has 25 suggested activities. You can complete those or create your own! We just want you to read! Have a toddler? Read with them and mark the log. Are you a horse book loving teen? Want to try something a little more advanced than our basic log? Download  the A-Z Challenge and read a book starting with each letter of the alphabet!
When your reading log is complete share it with us either by email, social media (with a parent's permission), or upload it to www.wereadhorsebooks.com
Completed cards will be entered in a random drawing at the end of the summer to win book prizes from participating authors.