Book Review: Astra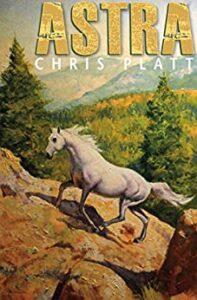 Astra
Chris Platt
144 Pages
Recommended Reading Age: 8-12 years old
"Astra Atomica was the perfect example of the Arabian Horse."
I am a sucker for a book that features Arabian horses. I have always loved Arabians, ever since I was first introduced to the Black Stallion way back when I was a child. And of course, it hasn't hurt that we were around them a lot over the past five years as my daughter competed on the Arabian horse circuit with first with a lovely Chesnut, Sunny, and most recently with a flea-bitten grey mare named Diva.
Earlier this year, I was looking for more books about the Tevis Cup Endurance Race, particularly fiction. I happened across a list and Astra by Chris Platt was on it as suggested Middle Grade reading.
Asta tells the story of a young girl, Lily who loves horses more than anything. But a freak accident on the trail took her mother's life and her father refuses to allow her to ride again. He even sells her pony. Lily continues to work at the neighboring Arabian farm where her mother had ridden Astra Atomic, the beautiful Arabian her mother rode and the horse she was on at the time of the accident. The horse has been given to the owner's son who could care less about the horse and allows her to drink from tainted water. Astra becomes very sick, and her owner decides to put her down. Lily begs him to save Astra. At first, he is hesitant but ends up signing the horse over to Lily.
Lily nurses the mare back to health with help from friends she has made and the local vet. But will her father ever let her ride again?
Platt has given us a nice slice of endurance riding, for teens, along with a believable and intriguing story. I wish (hint hint) she would write a sequel to this book.
I purchased this book on Amazon and read it via Kindle.