Book Review: Oak Lane Stables
As most of you know from previous posts I've made, I made a commitment to read more horse books this year. Last summer as part of the Summer Reading Program hosted by Horse Book Authors, I committed to reading at least one book from every participating author. This reminded me of how much I enjoyed reading (what are now classics) The Black Stallion, My Friend Flicka, and books by Marguerite Henry. And from participating in the Equus Film and Arts Fest the past few years, I've been introduced to quite a few new to me horse book authors.  Let me tell you, friends, there are some great horse books out now that are destined to become classics.
As luck would have it, I was recently introduced to Midwest horse book author, Kerri Lukasavitz. Kerri's books were recognized by Story Monsters through their Purple Dragonfly book awards and the Midwest Book Awards for Children's Fiction. And let me tell you, after reading her books I get why. She has a way with her storytelling that is honest and relatable.
I have to say, I did read the third book first. But of course, I'm a nerd and once I find that books are part of a series, even though they can be read in any order, I have to start at the beginning. The Oak Lane Stable books can be read out of order, but I think reading them in order is even better!  I really enjoyed the hunter/jumper, equitation, and jumping aspects of these books. I am first to admit, I do not know a lot about these disciplines (I've been around the Western Dressage, Pleasure, and Showmanship side of things), the Oak Lane Stables really help us gain a perspective of each without hitting us over the head with it. PLUS, I loved the stories.
The Oak Lane Stables series is recommended for middle-grade readers. Two things to note, Kerri has just released the books with fantastic new covers, and the second, is the books take place in the late 70s so your middle-grader may make fun of your Love Boat watching ways!
In Mystery Horse at Oak Lane Stable, we meet 12-year-old Cassie for the first time. Cassie takes lessons at Oak Lane Stable on George the old lesson horse and works in the barn to help cover her lesson costs. She is ready to move up and when her dad agrees to buy her a horse, she is over the moon. They look at several horses, including one in bad shape that Cassie really wants to buy but her dad refuses. Stan, the owner of Oak Lane, sees something in the horse and buys him. Cassie works with them to bring the horse back and discovers there is something off? Will she be able to convince her dad that this horse is right for her before it's too late?
The story continues with Gray Horse at Oak Lane Stable. Cassie now has a new horse, Snowdrops and they are working well together. They win an important championship and are working towards the next big show. But when Cassie finds threatening notes in her tack trunk, she is knocked off her game. Add in the circuit mean girls, and Cassie faces more issues. Will she recover from it all and will she be able to move on to jumpers where her heart now lies?
The third book in the series Dark Horse at Oak Lane Stable has Cassie launching into the jumping world. She has just turned 14, and is ready to move up to higher fences and harder competition. But her new horse, Night Hawk, may prove to be more horse than she can handle. Her dad is pressuring her to win and the boy drama, will Cassie's dreams come true.
The fourth book in the series, Ghost Horse at Oak Lane Stable is coming in October 2023. I can't wait to find out what happens next for Cassie and her friends.
Check out Kerri's website for excerpts from each book – including Ghost Horse!
I read all three of these books on my Kindle.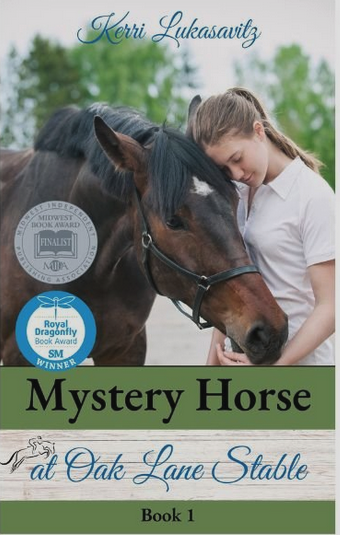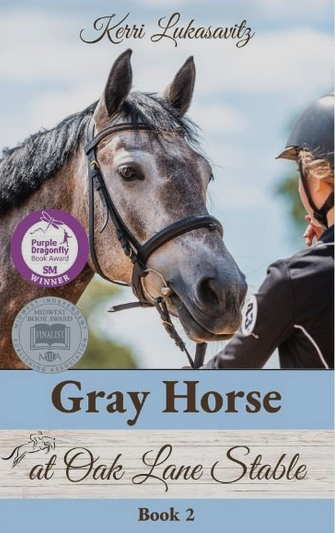 Kerri Lukasavitz
228 pages
Recommended reading age 8-12
Book 2 of 4: Oak Lane Stable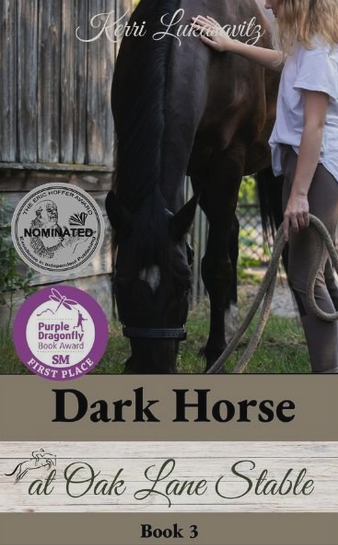 Kerri Lukasavitz
220 Pages
Recommended reading age 8-12
Book 3 of 4: Oak Lane Stable