Book Review: Born To Ride: An Equestrian's Dream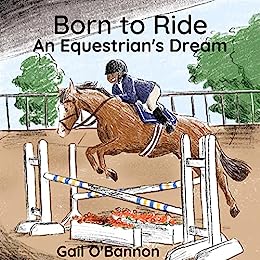 Born to Ride: An Equestrian's Dream
Gail O'Bannon
32 pages
Recommended reading age 4-9
I love finding new books to read and especially looking for illustrated children's horse books. When I came across Gail O'Bannon's book Born to Ride on Instagram, I knew I needed to read it.
Rae (YEP makes it even better) is ready to ride at her first-ever equestrian jumping competition. Her dad helps her choose Jelly Bean to be her horse. She gets him ready, heads to the show, and memorizes the jumping course.  She works really hard and gets a clean round.
This book is filled with charming illustrations to go with the story. Plus Gail tells a delightful story perfect for your horse and pony-crazy kids. Not only is this a good book to read for all ages, but is a great early reader for kids learning to read.
I read this book on my Kindle via Kindle Unlimited.