Book Review: Stolen Whinnies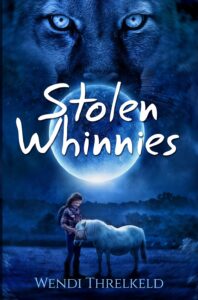 Stolen Whinnies
Wendi Threlkeld
Pages 130
Recommended Reading Age: 12 – 18
I found this book while searching for new horse book authors to invite to participate in our Horse Book Summer Reading All-Around. I admit the cover really drew me in and then I read the description and was hooked.
This is a story on several different levels. From the point of view of Winter, a young Falabella, who is attacked by a mountain lion. The outlook is grim, so grim the vet says the owner would be better off letting her go. But the Doctor who owns her, sacrificing his own health, is determined to save her.
To young Carson, a beautiful, brilliant 12-year-old girl who is caring for a therapeutic horse for her owner. Carson is obsessed with science and horses and helping the world around her. But her stutter sometimes holds her back. She finds a lecture at the local feed store given by an equine vet who specializes in dental for horses.
And that lecture leads her to cross paths with the vet's son, who doesn't mind her stutter and they quickly become friends. Jackson has worries of his own. His mother is in the army and has an important role.
Inspired by a true story, Stolen Whinnies has an inspirational message for anyone who has ever felt as if they didn't belong and for the superheroes they become. I look forward to reading Mercy's Rise, the next book of the Stolen Whinnies collection.
I purchased a paperback copy of this book to read and review.