Book Reviews: Emily Edwards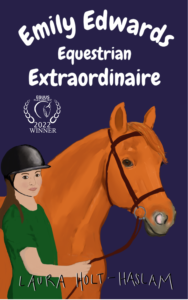 Emily Edward Equestrian Extraordinaire (Book 1 of 2)
Laura Holt-Haslam
Pages 253
Recommended Reading Age: 8 – 13
Emily Edwards loves horses more than anything. When she wins a week at horse camp, she can't believe her luck. Especially because with her mom on a secret mission and her dad struggling with Multiple Scholieosis (MS), money is tight.
And there is just one more thing, although she has read everything about horses, and is full of facts, she has never ridden a horse.
When she gets to camp she struggles to make friends and tries to impress everyone with her knowledge which backfires. The head instructor is not impressed with her facts. And there is a special horse Calypso, she wants to save, but can she?
Emily Edwards to the Rescue (Book 2 of 2 – so far!)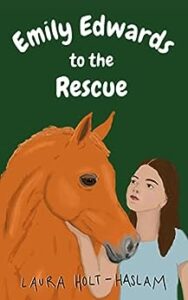 Laura Holt-Haslam
Pages 253
Recommended Reading Age: 8-13
Emily Edwards is back!  While things were great at summer camp, things at home haven't got much better. Her dad's MS is worse and the best solution is to pack up and move in with her grandmothers. This is great as it is closer to the stable to take more lessons, but she doesn't want to give up on rescuing Calypso. But finances are still tight and there is no way for her to save Calypso. She and her friend come up with a plan, but is it too late?
I really enjoyed both of these books. As a horse-crazy kid, who didn't have access to riding and horses, but could read everything they could get their hands on, I totally related to Emily. I was and still am the nerd with the trivia.
Laura gives us books that are both poignant and heartwarming. Stories we can all relate to in one way or another. I can't wait to find out what happens next for Emily and Calypso.
And don't miss her other series, starting with Sophia's Surprise.