Book Review: False Gods – The Show Jumpers Challenge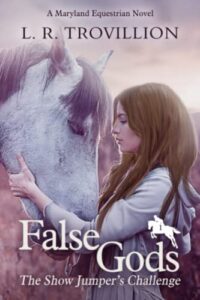 False Gods – The Show Jumpers Challenge (Book 1 of 3)
L.R. Trovillion
Pages 372
Recommended Reading Age:  13-18
"You quit out of fear. You change course out of self-knowledge and wisdom"
Cory's life is a mess. Her parents are divorced, her mother is addicted to pain pills, and her sister is obsessed with dancing and is wasting away before Cory's eyes. The divorce has forced them to move to a new town where she has to start a new school. She is bullied at her new school and is quickly labeled a quitter.
Her one escape is discovering a neighboring farm where she gets a job and slowly starts riding horses again. Horses are her one safety net. Her passion for riding is reignited and as she navigates the interactions between the farm's trainer, a reclusive former Grand Prix show jumper she may find her footing. Thrown in a mysterious rescue horse dumped at auction and her drive to ride and win kicks into full gear.
But the mess at home is rising to a boiling point and her success in the show ring catching the attention of a vicious criminal, Cory's newfound joy may be in jeopardy.
I really enjoyed this book. I had not read one of L.R. Trovillion's books before and I enjoyed the mix of horses and navigating issues facing many young adults today. And I highly recommend this to your TBR pile.
I read this book via Kindle Unlimited.