Book Review: Ride On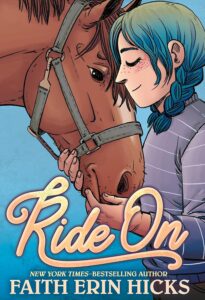 Ride On
Faith Erin Hicks
Pages 224
Recommended Reading Age 10-14
Victoria loves riding horses. It's something she has been doing with her best friend Taylor. But after having an argument with Taylor over competing, Victoria leaves the Waverly Stables. She decides to start over at a new stable with no drama, no friends, and best of all no worrying about competing.
Her first day doesn't go so well, when she brushes off one of the girls attempts to welcome her. But is this what she really wants?
Hicks has captured teen life, involvement in horses, school, and friend drama perfectly in her graphic novel Ride On. She has created relatable characters navigating complicated issues that face teens today. I hope she writes a sequel as I really would love to know what happens next. Her illustrations also capture the characters very well.
I also love her use of the graphic novel for this story. I've read several graphic novels and I highly recommend them especially if you have reluctant readers. Even reading it on my Kindle was enjoyable as the pages fit on the screen nicely.
I read this book on my Kindle via Libby.