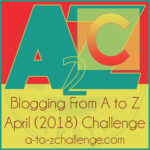 The definition of a challenge is a call to take part in a contest or a competition. A call to take part in. A contest or competition. What the basic definition doesn't point out is that a challenge can be internal or external. For the most part we writers face the internal challenge, letting our inner voice filled with self-doubt cause us to fail the challenge before we even start.
A little over a year ago, I wondered if I would ever be able to call myself an author. I have certainly been a writer for years but to risk putting my work out into the great wide world, where rejection and criticism lives, is a challenge I wasn't sure I truly ready to face. I had, in 2012, challenged myself to participate in the NANOWRIMO November novel writing event. For those of you who don't know NANOWRIMO is a challenge to write a 50,000 word novel in 30 days. My first attempt was a success… barely. I wrote the words that put me over the count with just a few hours to spare. Finishing that however did not (in my mind) turn me into an author overnight. I have spent numerous hours editing and rewriting. Putting it aside for long periods of time only to pick it up and spend more time editing. I submitted it to two different publishers and received the first rejection letters. I talk to authors who have drawers full of them but for some reason, that voice of self-doubt became overpowering and I went back to finding other ways to express myself.
I've mentioned the book called Big Magic by Elizabeth Gilbert in a previous post. Big Magic is about living a creative life without fear. To challenge yourself to put the fear aside and take a hold of your dream. I finished the book and accepted the challenge to call myself an author.
Now I sit here 14 months later and I am a published author of two children's picture books with a third one being illustrated now. Ideas swirl in my head like fireflies on a warm summer's night waiting for me to grasp them out and pour them onto paper. That novel sitting in a computer file on my laptop, will eventually see the light of day, even if only one person ever reads it.
Accept the challenge, take the road less traveled, follow your dreams, make your journey matter to you.
It is good to have a end to journey toward, but it is the journey that matters in the end.
-Ursula Le Guin