D is for Daughter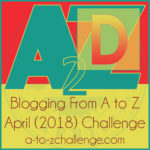 When I hit the letter D today, I was stumped for awhile. So many people participating in the endeavor had a month to plan themes around the letters and here I was (already starting a few days behind) wondering what I was going to write about the letter D.
I settled on writing a little bit about my daughter. My husband and I were blessed nearly 13 years ago when she was born and it certainly has been an adventure ever since. Both my husband and I tend to be introverts and we became the parent of an extrovert.
When she was three, I had taken her to a story time at the local library. There was someone from the state there observing the kids. She came over to me and said, "Your daughter is the social butterfly."
If there is one thing I can say about our daughter is she has an innate ability to make friends with anyone. This ability has been a blessing for her as we have moved several times from California to Utah to Seattle over the past six years. I admire her for finding the courage to continue to be the amazing young lady she is.
She is creative, funny, smart, friendly, artistic, helpful. I could go on and on. Plus she is an amazing equestrian and the inspiration for my children's books.