Lil' Steps Wellness Books – Cindy and Cristabelle's Big Scare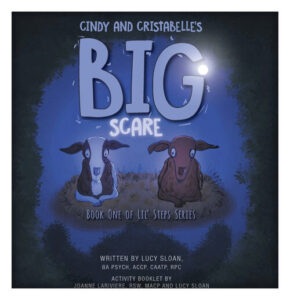 Recently I've been reading a lot of fun new children's books. I got Kindle Unlimited to read a book for my book club and discovered a wealth of children's books I haven't seen before. I do have most of my books on Kindle Unlimited.
Today I would like to introduce you to Cindy and Cristabelle's Big Scare. Cindy and Cristabelle are two fainting goats. I don't know about you, but I think fainting goats are adorable and these two goats fit the bill with one big exception – Cindy and Cristabelle are worried about everything! They are worried about getting a sunburn, they are worried about lions and bears and if there will be enough food to eat. At night their worries grew and grew and grew until they were to scared to sleep. What are two goats to do?
With the help of a pig named Wilbert, Cindy and Cristabelle learn to deal with their worries. Author Lucy Sloan, BA PSYCH, ACCP, CAATP, RRC, has written a wonderful book along with a workbook that will help children with anxieties deal with their emotions. I think it even provides a big help to adults. And given the current state of the our world this is book has arrived at just the right time.
I also absolutely loved the illustrations! They work so well with the story.
Cindy and Cristabelle's Big Scare is  the first book in the Lil' Steps Wellness Books. Lil' Steps Miniatures & Wellness Farm is a fully comprehensive sensory therapy facility located in St. Malo, MB. They specialize in treating both adults and children suffering from anxiety, depression, ADHD etc. They offer a range of services & programs including play therapy, animal-assisted therapy/counselling, equine-facilitated wellness and so much more.
I look forward to seeing what Lucy Sloan pens next!
Check out Cindy and Cristabelle's Big Scare online at https://www.lilstepswellnessfarm.net/lil-steps-book-series-tools.