Horse Books Make Great Gifts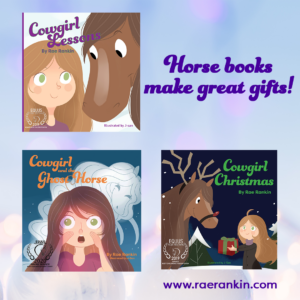 Happy Holidays!
I hope that you are all healthy and finding ways to continue the holiday spirit despite the current state of the world. We've decorated our tree and put out some outside lights (Lizzie doesn't think there are enough so I imagine she will add more). This weekend we decorate the stalls at the barn. It's an annual tradition, filled with laughter, barn friends, donuts, and coffee.
Be sure to run over to my favorite podcast, Equestrian Author Spotlight. I joined in with some of my favorite equestrian authors to share some virtual holiday cheer. Plus the podcast is hosting a giveaway. Watch the full video packed with holiday cheer and enter the giveaway here: https://bit.ly/2LkwlmD
There is still time to order signed books to arrive for Christmas! Signed books can be purchased in my website shop, https://raerankin.com/shop/.
Don't forget, horse books make great gifts!