Summer Reading Book Review: The Earth Keeper's Gift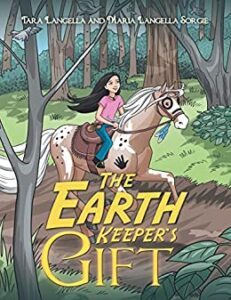 The Earth Keeper's Gift

The Earth Keeper's Gift (Book 1 of 4)
Maria Langella Sorgie
https://www.marialangellasorgie.com/
32 pages
Recommended Reading Age 7 to 9
The Earth Keeper's Gift is a special story about a girl named Nimue who has a special way with animals including her pony, Cloud. One morning before school, she falls and hits her head. When she wakes up, she finds the natural world is in danger and she must unlock the secret to save nature. Will she be able to conquer her fear and save nature?
This story reminds me so much of the Native American stories I was told as a child by my neighbor as well as the ones I read in books. And the illustrations are lovely. I do recommend this book – in our crazy world, we do need stories like this.
One thing to keep in mind when you read it is the formatting. I would prefer the dialogue to be formatted so that it isn't on the same line as it makes it a little harder to follow. But honestly, that is minor in the grand scheme of things.