Summer Book Review: Born to Run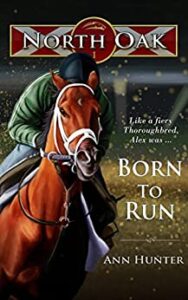 Born to Run (Book 1 of 10)

Ann Hunter
272 Pages
Recommended reading age 12-17
Alexandra has been in and out of foster homes for as long as she remembers. She has a history of running away and ending up back at a facility to be with one of her friends, Ashley. They plan to run away and never come back. The night before they are to put the plan in place, Ashley is shot by the headmistress of the facility and dies in Alexandra's arms. The headmistress tells Alex she plans to kill the last few kids there including her. While trying to escape, Alex shoots the headmistress.
Now on the run from the law, Alex does everything she can to get away. But ends up sick and delusional at the gate of North Oak, a high-end Thoroughbred racing farm. She is taken in by the farm owner and the family of the farm vet. She connects reluctantly with the family and the horses on the farm, in particular with a colt.
But she knows it is only a matter of time before the police find her. Will she stay or will she run?
Yet another great summer read by equestrian authors! Born to Run is a fast read and will have you on the edge of your seat and rooting for Alex all the way through even through her tough kid facade. Born to Run also has a secondary mystery underlying the plot that will only be flushed out more as the series continues. I can't wait to read the next book in the series to find out what happens.
The books I review are purchased by myself or downloaded via Kindle Unlimited. This review refers to the eBook version.