Summer Book Review: Show Strides School Horses and Ponies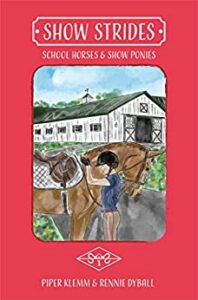 Show Strides: School Horses and Ponies (Book 1 of 4)
Piper Klemm
131 pages
Recommended reading grades 3-6
Tally Hart loves horses and loves taking lessons at the local barn, Quince Oaks. When a new trainer arrives, Tally worries about how it will impact her riding. What it does is introduce her to a new level of riding and the world of horse shows. Tally works extra hours at the barn to earn more lesson time and expand her experiences.
This is a great book to introduce kids to the world of horse shows and the jumping world. I can't wait to read book 2 as book 1 left us hanging! I do appreciate the message in the book that showing isn't just riding. There is work that goes into it, not just the lesson work, the cleaning and caring of horses and equipment.
The books I review are purchased by myself or downloaded via Kindle Unlimited. This review refers to the eBook version.