Book Review: Horse Trouble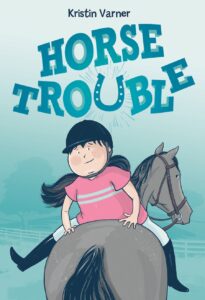 Horse Trouble
Kristin Verner
Pages: 288
Recommended Reading Age: 8-12
"I knew I had to break the silence between us and make things right."
I absolutely love a good graphic novel. Some of my favorites include Stepping Stones and Apple Crush by Lucy Knisley and Sunny Side Up by Jennifer L. Holm. And I certainly encourage them as a great option for kids who are reluctant readers.
So when I was poking around looking for more books to add to my horse book-to-be-read pile I was more than happy to add this one to the list. And I am so glad I did.
Kate loves horses and she loves striped shirts. She has all the typical 13-year-old girl problems – crushes on boys that don't notice her, mean girls, and the one that bugs her the most – she is pudgy and unfortunately gets teased for it. Her brother, her brother's friends, the mean girl at the barn. She finally says something to her mom who gets her on a program to help, but even her mother's reaction is hurtful.
She feels the happiest when she is riding horses. However recently she has been falling off – a lot! Which of course makes her the target of the barn mean girl, Jana, even larger. Until one day, the tables get turned and an action Kate makes turns her into the barn-mean girl, Kate must work through her own feelings and accept herself and do the right thing.
I HIGHLY recommend this book. As someone who has struggled with weight and body image issues and has seen the bullying that can happen to kids (girls especially) who have weight issues, especially in the equestrian world, I connected to Kate and her issues.
I do also need to comment on the illustrations. Kristin has worked her magic to create believable characters and horses. I really felt I could feel the horse's movements and their personality via the illustrations which makes this an even better graphic novel. I am also thankful she provided some of her character development at the back of the book.
I read Horse Trouble on my Kindle via Libby. AND I plan on purchasing a copy for my horse book collection.