Book Review: Kick the Latch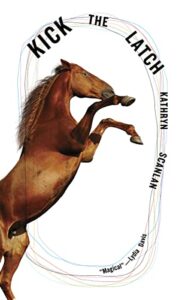 Kick the Latch
Kathryn Scanlan
Pages: 137
Recommended Reading Age: 16+
"Horses get fractious and bang around in their slots before you kick the latch…"
My husband and I were recently on a quick trip to the coast. I love to explore bookstores where ever we go. This time we drove to Guernville and stopped at a lovely bookstore called Russian River Books and Letters. Nestled among the books are typewriters where patrons can sit and type a letter to a friend or family. The owner has also curated a lovely selection of books, among which I found Kick the Latch by Kathryn Scanlan.
I didn't buy it that day, although I wish I had. I thought about it for a few weeks after and knew it had to be added to my "TBR" pile of horse books. I make use of our library systems ebook collection via Libby and found Kick the Latch available through that medium. I put in a request and was added to the waitlist. In the meantime, I continued reading books on my list expecting this to come through in a few months. Imagine my surprise when I got the notification a week or so later that it was available. Libby allows me 21 days to read the book so this one had to jump the line in my list.
Told from the perspective of a woman named Sonia, Kick the Latch, tells her story from birth through life among racehorses in short distinct vignettes. Each vignette, lasting only one or two pages, provides readers with a brief, yet provocative look, into the world of horse racing. I felt connected from the beginning even though I know little about horse racing from an insider's perspective. Additionally, it provides us with a touch of introspective on ourselves.
I would highly recommend this read. I will add one note – there are moments in the novel that while not necessarily graphic may have triggers for some people.
I read Kick the Latch on my Kindle via Libby.