Book Review: Mystic and the Midnight Ride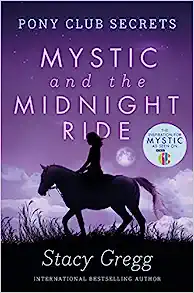 Mystic and the Midnight Ride
Stacy Gregg
Recommended Reading Age 9-12
Book 1 of 12 (Pony Club Secrets)
"It was almost as if she were riding vapour, a wisp of grey smoke."
Issie loves riding horses more than anything in the world but when the unthinkable happens and her beloved horse Mystic is killed in an accident, she decides to give up riding altogether. Her mother agrees as she is worried Issie will get hurt again.
But Issie's riding instructor has other ideas. He insists she helps rehabilitate a horse he rescued. Blaze is a beat-up, malnourished Arabian mare and so beautiful, Issie can't help but start to work with her. Slowly they connect and Issie is able to bring Blaze back to health. Issie and her friends notice some odd happenings around the farm and some strange men hanging about, they start to get suspicious about their intentions. Then something awakens Issie and she knows the men are trying to steal Blaze. She rides through the night on Mystic to save Blaze, but Mystic isn't really there or is she?? Find out by reading Mystic and the Midnight Ride!
AND OMG! I just learned this series is new tv series in the UK and New Zealand.
Another great horse book to add to the collection and now I have 11 more books to read! AND a new author to me. Thank you to everyone who is providing horse book recommendations to me.
I read this book on my Kindle via Kindle Unlimited.