Escape Reality with These Eight Great Horse Books
There's absolutely nothing I like better than curling up with a warm blanket, a cup of tea, and a good book. From the time I was little, books have always been my go-to when I need to escape from reality.
I am always on the hunt for new authors and horse books are right at the top of my list! This curated list has eight horse-loving writers who have discounted their titles as a small way to serve readers like you.

From memoir and cowboy romance to YA, equestrian fiction and to my picture book, Cowgirl Lessons, here's a list of stories that just might be a temporary escape for you in the coming days.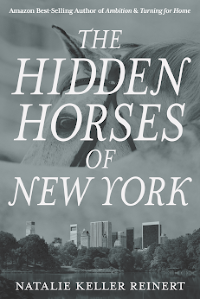 The Hidden Horses of New York by Natalie Keller Reinert
New grad Jenny is living her dream as a turf writer in New York City, until she uncovers a racetrack scandal which tests everything she has ever believed about the Thoroughbred life.
Meet Natalie: Because horse books should be for grown-ups, too, Natalie Keller Reinert has written more than a dozen bestselling novels about equestrian life. Discover more about Natalie at nataliekreinert.com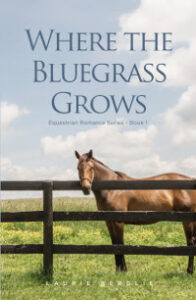 Where the Bluegrass Grows is Laurie Berglie's debut novel and the first book in her "Equestrian Romance Series."
Meet Laurie: Laurie Berglie is the author of the "Equestrian Romance Series" which features three novels set in Maryland, Kentucky, and Virginia. Find Laurie and her work at www.laurieberglie.com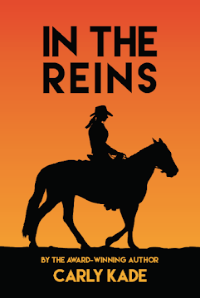 In the Reins (In the Reins Equestrian Romance Series Book 1) by Carly Kade
Full of equine epiphanies, In the Reins is a love story sure to touch your inner cowgirl, capturing the struggle between letting life move forward and shying away from taking the reins with horses and in love.
Meet Carly: Carly Kade is an award-winning equestrian author and the host of the Equestrian Author Spotlight podcast. Creative writing makes her spurs jingle! Keep in touch with Carly at https://www.carlykadecreative.com/.
Lucy's Chance (Red Rock Ranch, Book 1) by Brittney Joy
Sixteen-year-old Lucy Rose is spending her first summer away from home and she has two things on her mind: an abandoned, violent horse and a blue-eyed cowboy. Only neither is hers.
Meet Brittney: Lifelong equestrian and author of sweet, young adult equestrian fiction series, Red Rock Ranch, as well as the magical YA series, OverRuled. Find Brittney at www.brittneyjoybooks.com/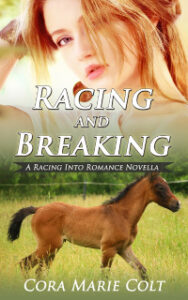 Racing and Breaking (A Racing Into Romance Novella) by Cora Marie Colt
Silas Knights finds himself making an interesting parallel between the young horses he has been hired to train and the young woman who is making her way into his heart.
Meet Cora: Cora first fell in love with horses at Ak-Sar-Ben Racecourse. Their power and speed was her first romance. Now she writes it into sweet, clean novellas in the Racing Into Romance collection. Connect with Cora here https://racingintoromance.yolasite.com/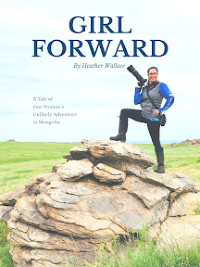 Girl Forward: A Tale of One Woman's Unlikely Adventure in Mongolia by Heather Wallace
Travel to Mongolia for an endurance horse race and live with the nomads through the eyes of a timid rider and mother of three determined to be bold and live life to the fullest.
Meet Heather: Heather Wallace is a returning adult equestrian and mama writing about her own journey to be bold in the horse world and beyond. Check Heather out at www.timidrider.com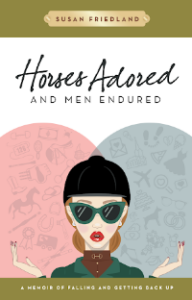 Horses Adored and Men Endured: a Memoir of Falling and Getting Back Up by Susan Friedland
When Susan was 10, she thought it would be perfect if she could marry a horse; two decades later she feared she might have to marry a horse as there seemed to be no suitable human alternative!
Meet Susan: History teacher by day and horse girl 24/8, award-winning equestrian blogger Susan is owned by a cuddly Doberman and tall, dark and handsome bay Thoroughbred gelding. Trot along with Susan at saddleseekshorse.com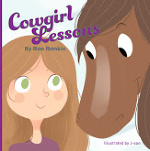 Cowgirl Lessons by Rae Rankin
Come along the adventure as a young girl heads to the barn for her weekly riding lesson on her favorite horse Duchess. But first, she must find her lost boot! Good thing mom has eyes "like a hawk!" Read now for free on Kindle Unlimited!
Meet Rae: A lifelong lover of reading, writing, and horses, Rae writes children's books that celebrate family bonds, horses, and the people that are special in her life. Follow her journey at https://www.raerankin.com.